The plastic bag is dead, long live the home-made grocery bag!
Not sure how the rest of the world views plastic carrier bags, but in the UK they're definitely an endangered species.
I've carried a motley assortment of bag-for-life type carriers for many years but they are still plastic and well...not the most stylish accessory. Although I do get a peverse pleasure out of using the 'wrong' carrier in a supermarket...Asda bag in Tesco's, Tesco's bag in Waitrose (when I've been paid), Sainsbury's bag in Aldi (when I'm broke...) That's just the rebel in me......
But enter the home-made and decidedly more chic grocery bag (shopping bag, tote...call it what you will).
My bag started life from as a collection of fabric donated to me by a lovely friend at work. I used the 3 pieces in the bottom right corner for this project.
I played around with numbers and sketches, deciding on a 3 tone bag dictated by which pieces of fabric were bigger, The fabric was a heavyweight cotton so I didn't need to line the bag.
And here's the finished bag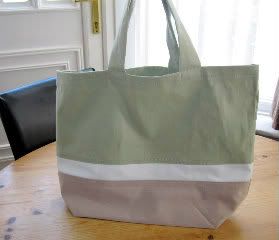 I squared the bottom of the bag to make it more stable when packing, and reinforced where the handles join the bag with a box and cross stitching arrangement. The fabric was pre-washed to avoid shrinkage as I want to be able to wash my grocery bags in the future.
I loved my bag so much I made a couple more.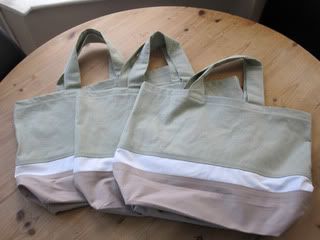 Oooh get me with my matching shopping bags! Soooo much more stylish when one is perusing the aisles of the Marks and Spencers Food Hall, and equally at home buying spuds from t'market!