Labels: sewing, tutorial
·
Posted by Wag Doll

Hey lovelies,
Finally this enormous tutorial is ready. It's an epic, months in the making. Rejoice... for here comes the Fussy Cut Tote Bag!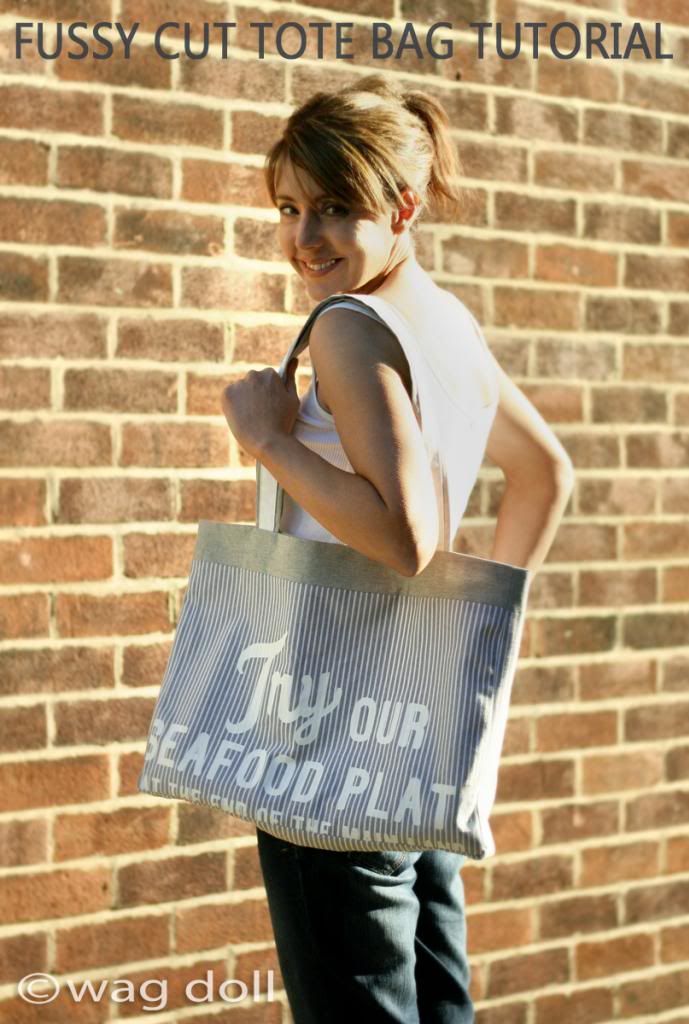 Fussy cutting is a technique where the fabric is cut to take advantage of the pattern, so in my case the script needed to be centred and the correct way up. It's a technique often used in quilting, to showcase a motif within a quilting square but the same idea applies here.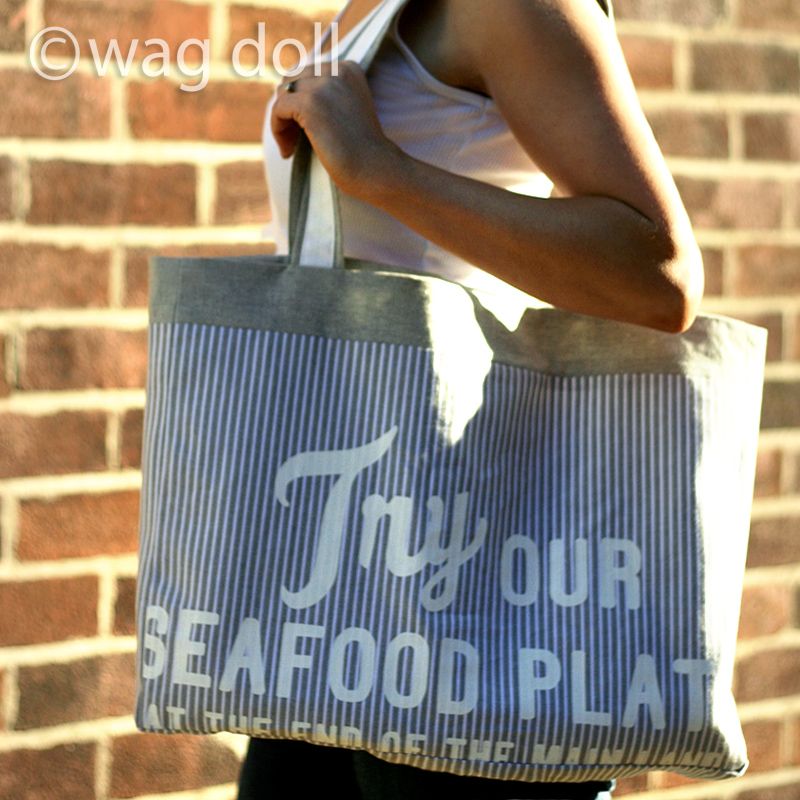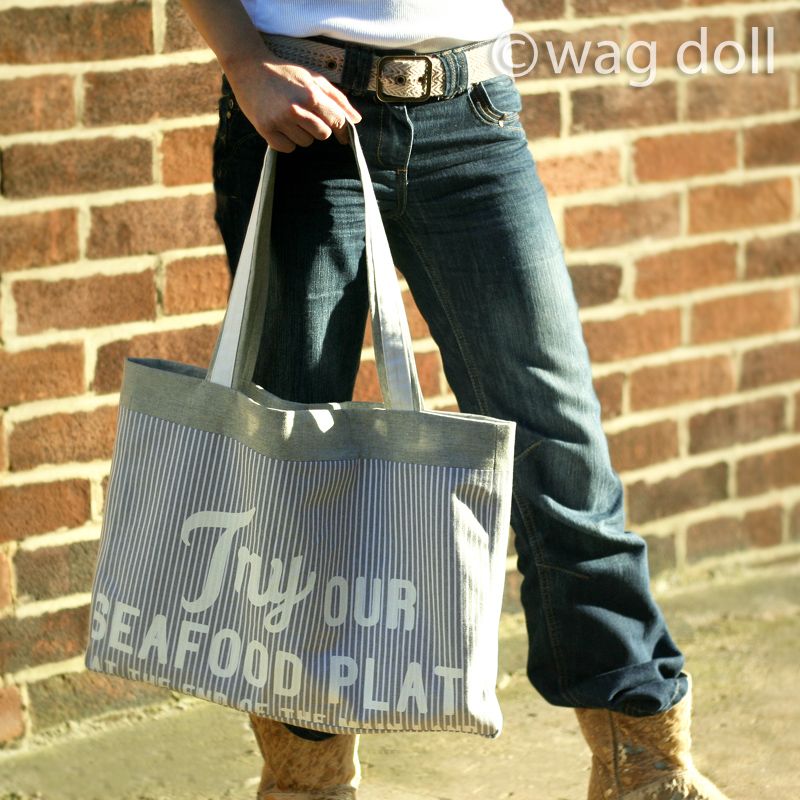 Of course you can make the bag in any fabric you like, I just fell in love with this fabric and knew I wanted to make a summer bag with it.
And that's not an arty 'hand near my face' pose, I'm shielding my eyes, it was actually sunny when we took these photos. Yes, my summer bag brought the sunshine to England...rejoice again people!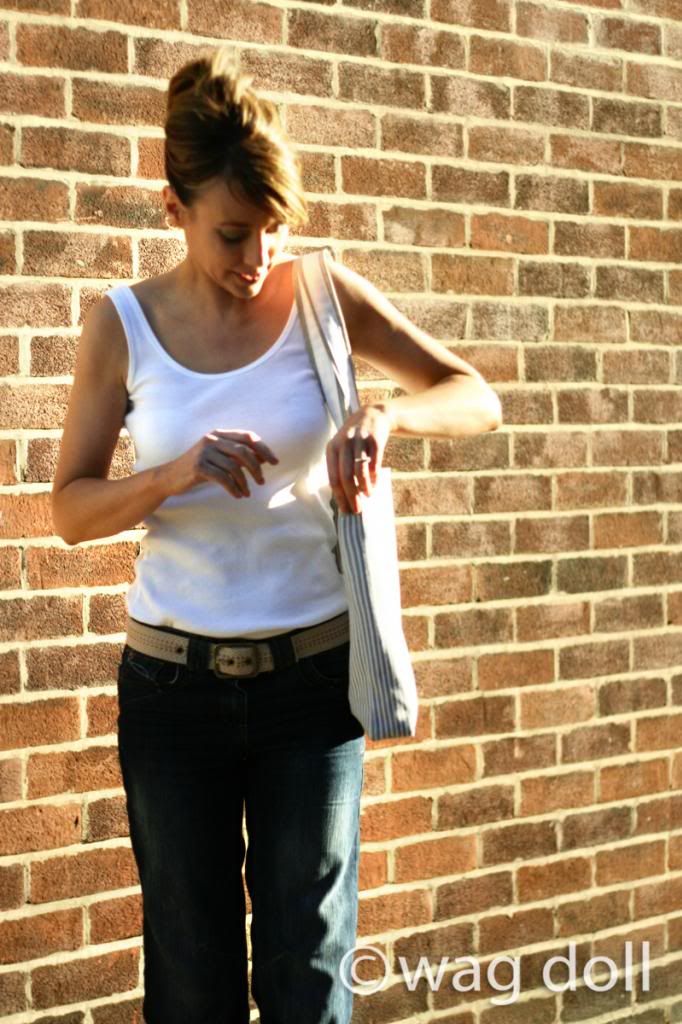 The bag is ultra roomy because the "travel light" concept is totally alien to me, "just in case" is my mantra. It's also fully lined and has a little interior pocket too.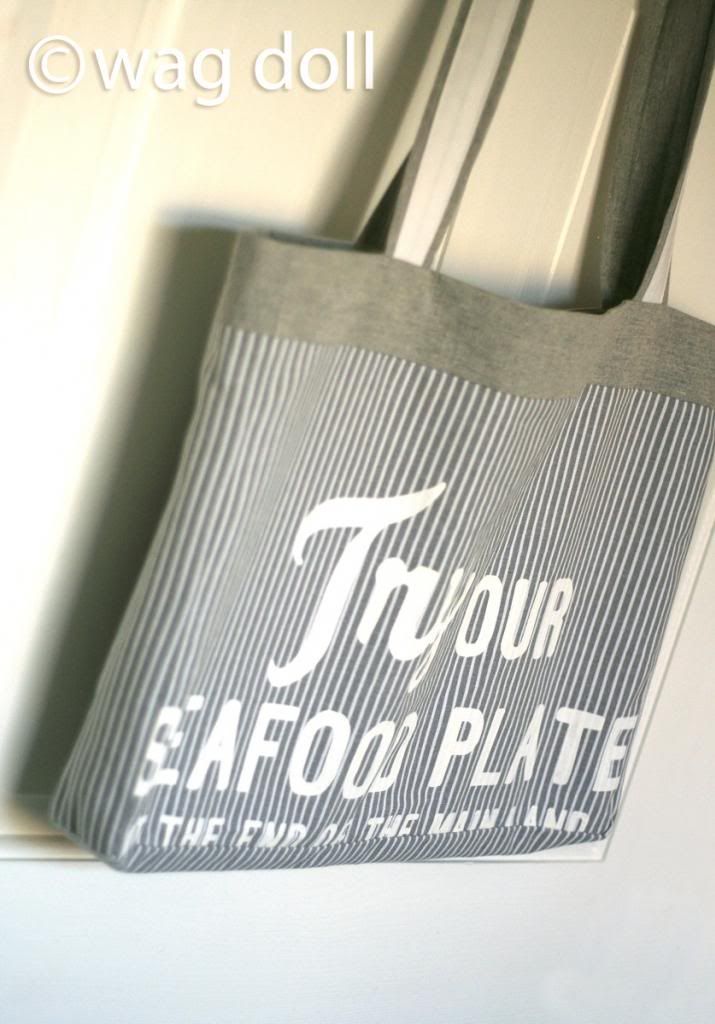 Read on for a step by step tutorial. You know me, I've probably gone into too much detail, but better more than not enough.
Labels: make-up reviews
·
Posted by Wag Doll

Hey lovelies,
I'm in the middle of writing the most enormous sewing tutorial known to man (or woman). Seriously, it's a beast of a tutorial with over 40 photo steps, so in the meantime I'm going to share my recent make-up favourites from both ends of the price range!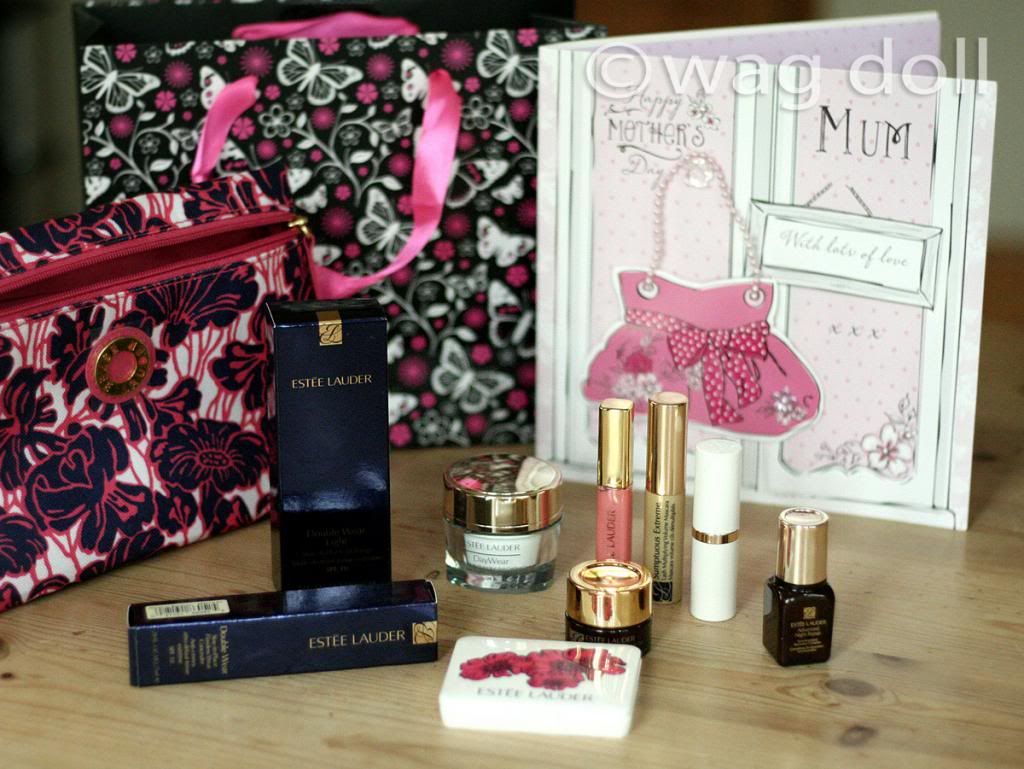 For Mothers Day the lovely Wag Doll'ette bought me my favourite Estee Lauder foundation and concealer, which came with some gorgeous free gifts including this eye shadow duo.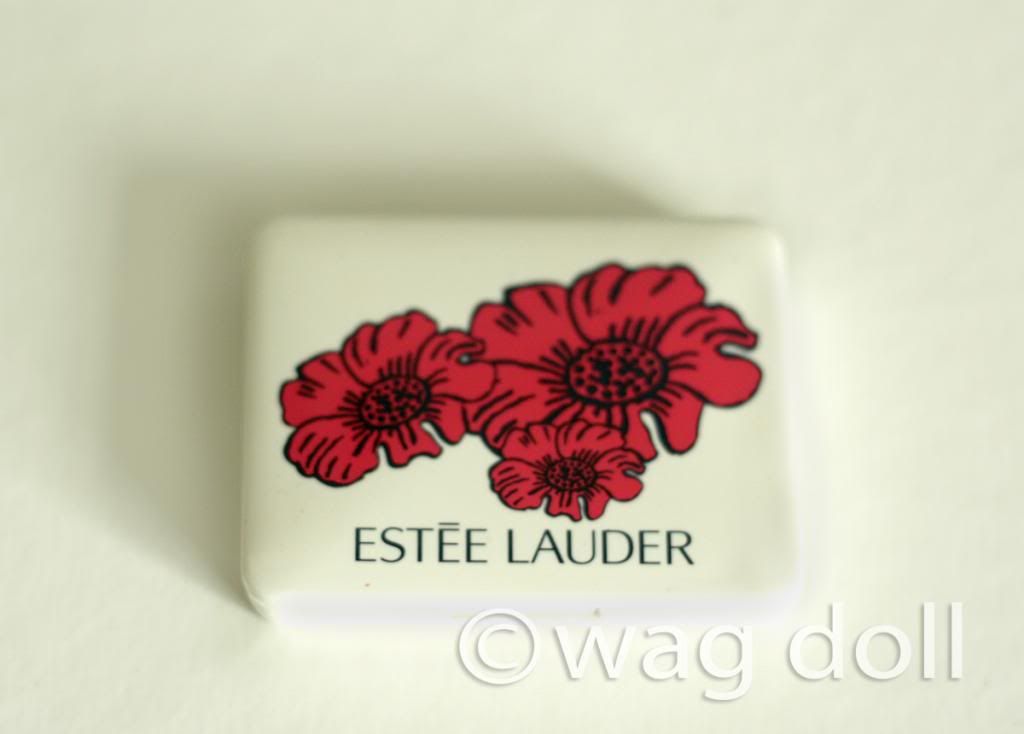 To be honest the packaging doesn't blow my socks off, it's a white plastic case with a gaudy flower motif but as they say, don't judge a book by it's cover, instead check out the gorgeously pretty eyeshadows inside.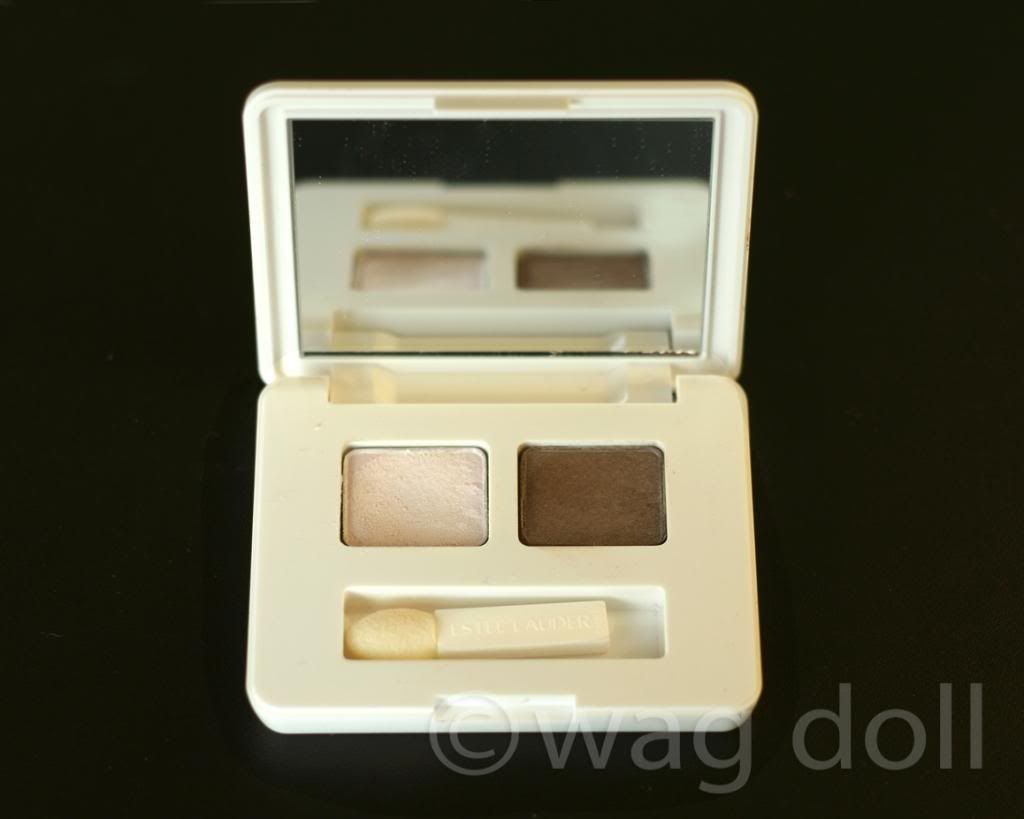 'Pink Flash' is a shimmery pale pink highlighter colour and 'Tempting Mocha' is a cool toned brown with pink undertones. Both colours suit my fair skin tone and I've been wearing them a lot... until I found a rival from the opposite end of the price range...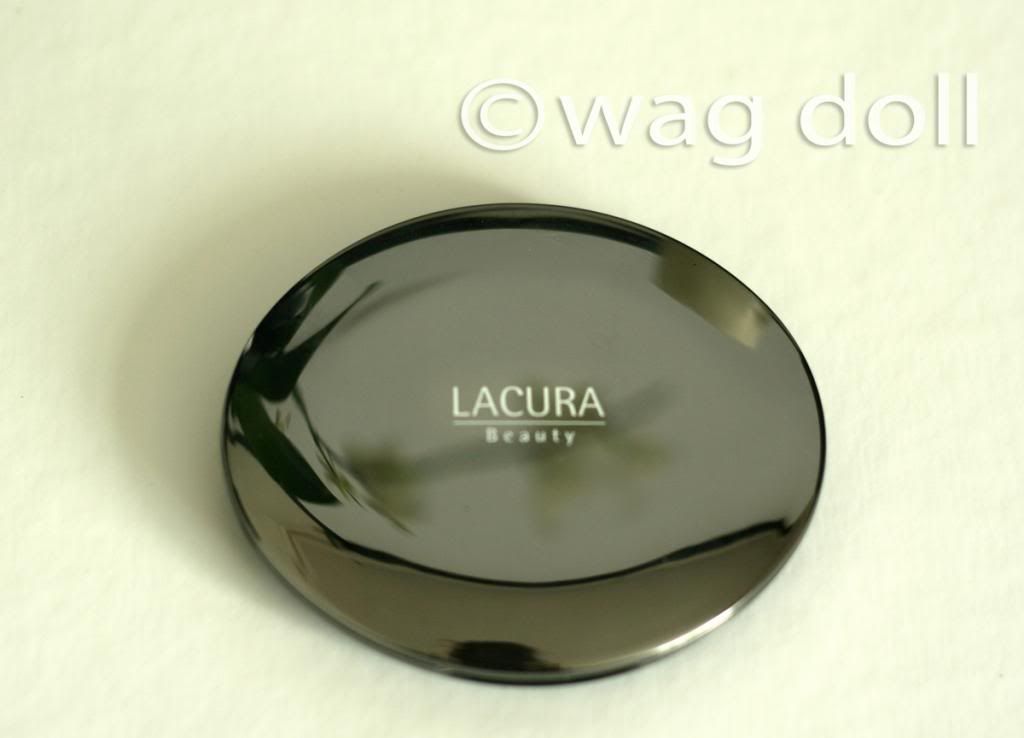 Aldi supermarket's Lacura eyeshadow duo! The packaging here is much more impressive, with a metallic style case. But how will the eyeshadows stack up against premium brand Estee Lauder?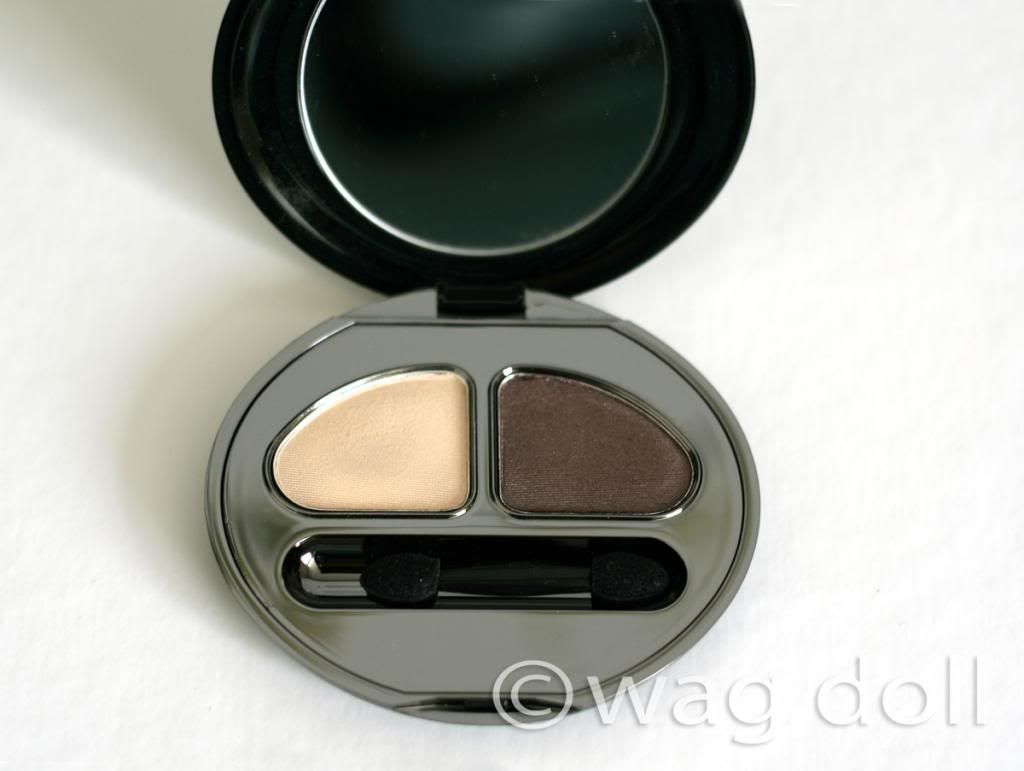 I chose the shade 806 duo 'Orchid' which includes a cream toned highlighter with slight shimmer and a brown shading colour with a slight purple shimmer undertone.
Both duos are extreme colour combinations, both have a pale highlighting colour perfect for the inner corners of the eye and under the brow bone, and a dark shade perfect for contouring the crease and underlining the lower lids. In both cases I needed a mid shade for the eyelid and to blend the two colours together, they are too extreme to use on their own without looking stripey!
Both kits have a handy mirror if you're out on the go, and both come with one of those ridiculous sponge applicator which need to go straight in the bin, use brushes... you know
I love brushes!
So let's test the colours...
From L to R: Estee Lauder Pink Flash; Tempting Mocha; Lacura Orchid Highlighter; Orchid Contour
The Estee Lauder shadows go on smoothly and have great staying power, they don't crease and have enough shimmer to glow but no large flakes of glitter. Pink Flash needs a couple of applications to give good coverage but Tempting Mocha is highly pigmented and just needs a single swipe.
Meanwhile the Lacura eyeshadows are also finely milled, the highlighter in particular goes on very smoothly and has great coverage for such a light shade. It is a little 'soft' and has some fallout when applying but is easily brushed away. The dark shade is absolutely gorgeous on my skintone. It's a highly pigmented cool toned brown with a slight purple undertone, which compliments both my skin tone and green eyes. I love it!
So which did I prefer? Well I absolutely love both sets and have worn them many times. The Estee Lauder duo was a free gift and the shadows are a smaller size than their
pure colour eyeshadow kits
, which retail for about £15 each. I have to say I was very impressed with the The Aldi Lacura kit which retails for £1.99... an absolute steal for this quality.
I'll continue to wear premium brand foundation and concealer because I've yet to find a cheaper brand that matches up, but drugstore and supermarkets really do have some great makeup items proved by this review. Aldi is well known for it's skincare range which has had great reviews so I plan on trying some of those items next.
For value for money I'd have to say the Aldi Lacura kit wins but if Wag Doll'ette (or anyone else for that matter) wants to buy me an Estee Lauder eyeshadow, then I'll be very grateful :-)