Heart Felt Garland Tutorial
Happy Valentine's Day Lovelies!
That pink and sparkly day of "lurve" is almost upon us, so this weekend I made a quick and easy "Heart Felt Garland" to celebrate.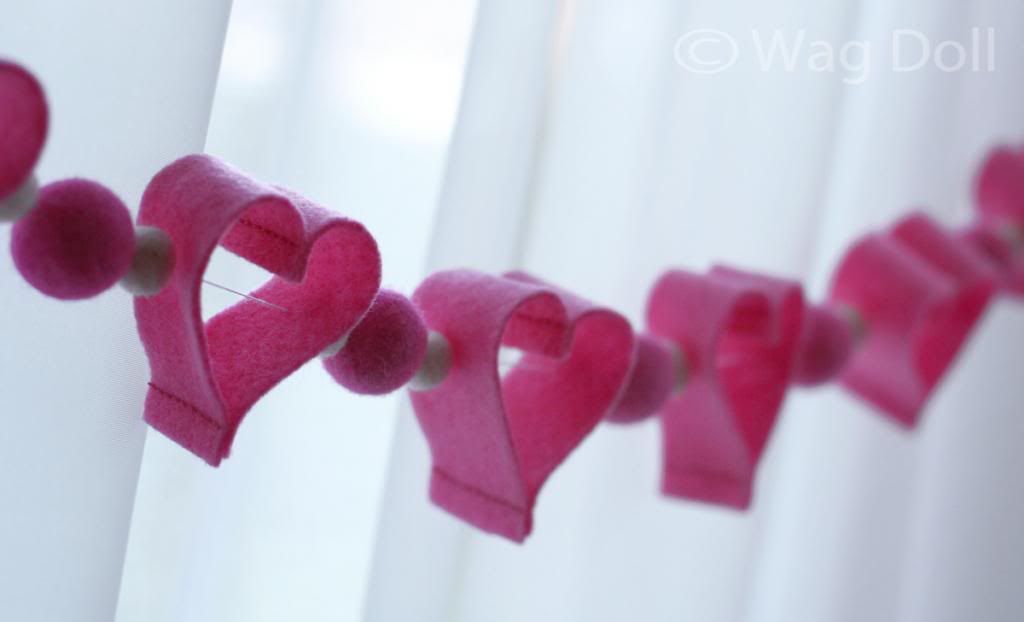 I just hope Mr Wag Doll isn't reading because I want to surprise him, although I'm sure he knew I was upto something this weekend. Sneaking around hiding bits of fabric under my jumper and trying frantically to keep my felt balls under control...those little critters are escape artists!
Read on for the tutorial:
All credit for this project must go to 'Owl', as I've recreated her
beautiful garland
. I had to guess at the measurements as Owl's tutorial isn't available in English, so I've included them below.
If you don't like the idea of sewing, how about this
felt ball garland
by My Sparkle or this
papercraft garland
which uses the same principle of folding as the felt hearts.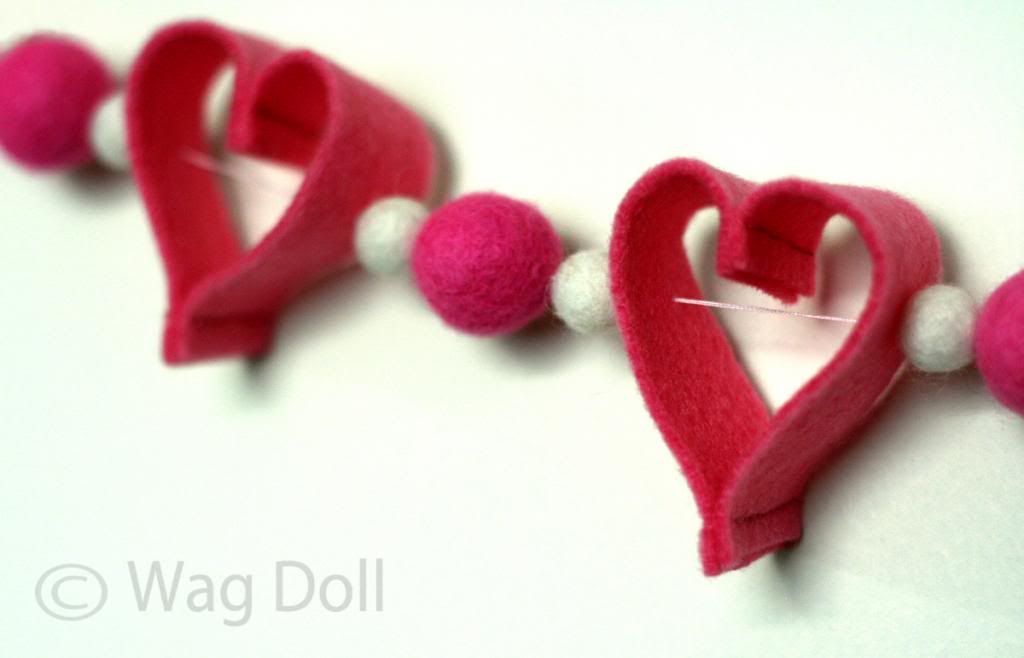 You will need:
Felt fabric - a 12inch square of craft felt will make 12 hearts
Felt balls - for my garland I used 22 small felt balls in white and 10 larger felt balls in pink
Sewing machine, thread and a large hand sewing needle.
To make a garland of 12 hearts: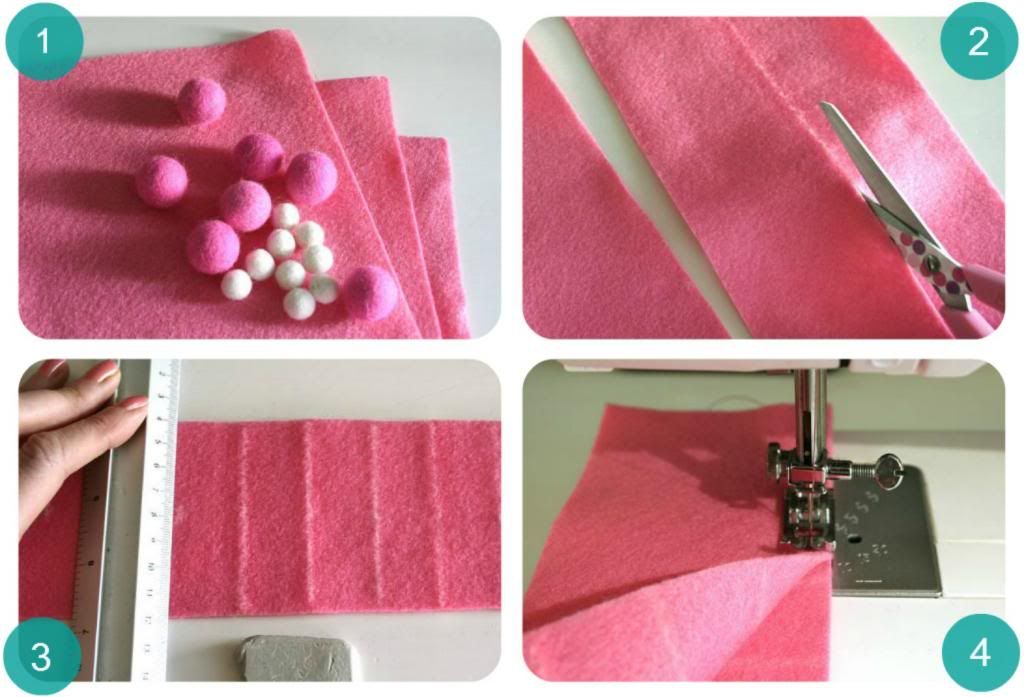 1 - Gather your materials
2 - Measure and cut 2 strips 12" x 3" (30cm x 8cm)
3 - Mark the width of your hearts on both pieces of fabric. 1" (2.5cm).
4 - Place the maked sides of the fabric together and sew a narrow seam along one long edge.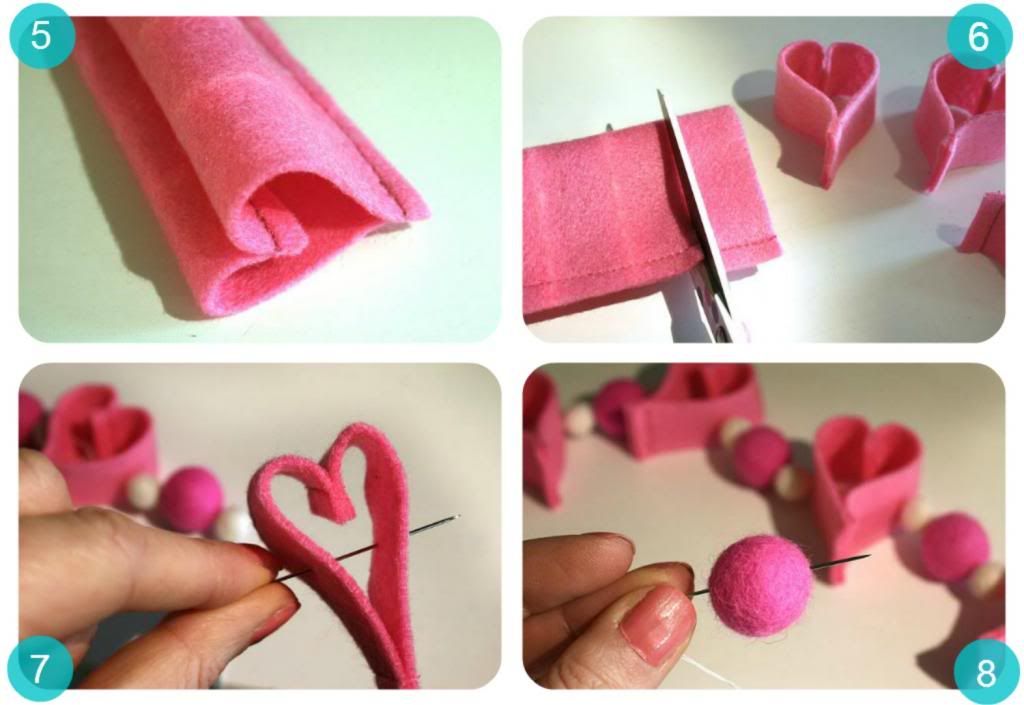 5 - Fold your fabric out, bending it back along the seam line. Sew a narrow seam along the remaining long edge.
6 - Cut along the marked lines.
7 - Thread a large needle with cotton (doubled) and thread through your first heart.
8 - Thread the felt balls onto the cotton, I went for a triple arrangement of white, pink. white.
Continue threading the hearts and felt balls until the garland is complete. Obviously your garland can be as long as you want. This project is super quick and easy, it literally took me 20 minutes and I'm very slooooow at sewing.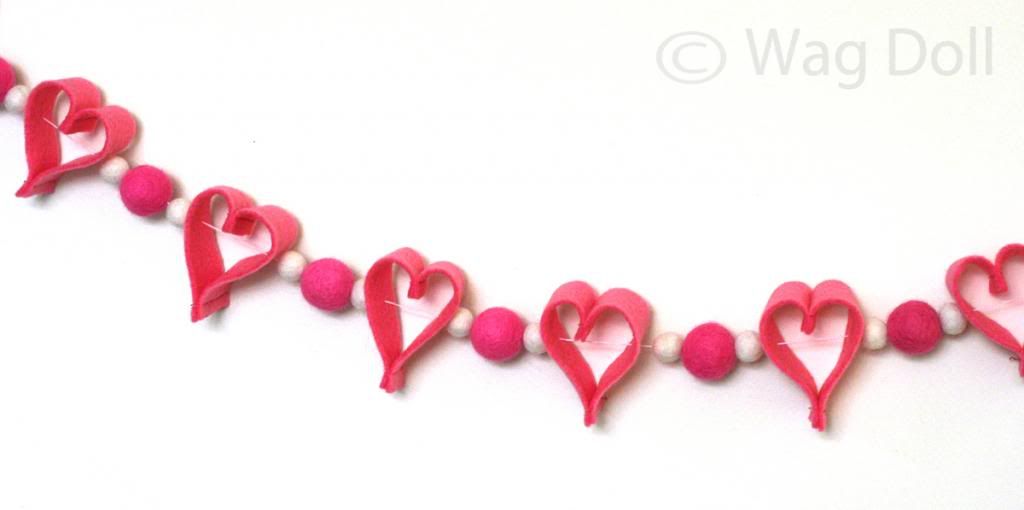 And isn't it cute?
Go on, give a handmade gift with 'heart felt' love this Valentines Day!