Do you really get what you pay for? Toiletry & Perfume Review
A change of subject for me this week, for a couple of reasons.
I'm mid-way through on a number of sewing and craft projects so I want to wait before posting about them.
I've also been very busy filming at a number of martial arts events, assisting the Loftcon Studios camera crew at Muay Thai, MMA, Cage and Kickboxing events around the UK. I may do a blog post in the future, would anyone be interested in that?
I love make-up, creams, potions and lotions in all forms but I also want value for money, so how did these products fare?(and just to note, I paid for all these products with my own hard earned pennies). Make sure you check out my bargain of the year at the end!
First up - a couple of St Tropez products. I'm fair skinned and avoid the sun so use fake tan instead.
St Tropez Instant Glow Face Lotion - £10 for 50ml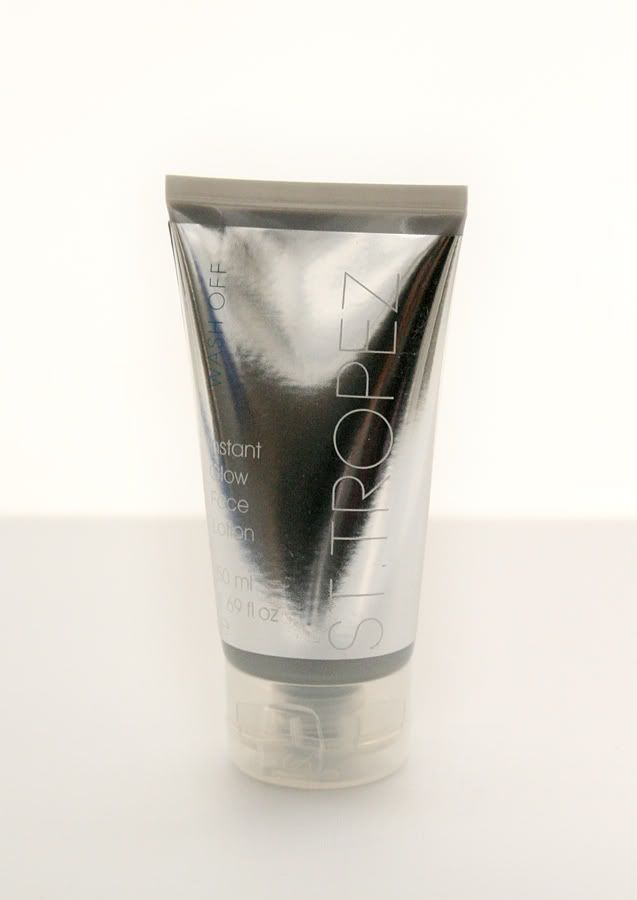 A wash off tanning product to give a healthy colour. I love this product, it gives a healthy glow instantly and can be worn on its own or under make-up. It doesn't contain any self tan agent so it washes off easily and doesn't have the awful 'gravy granules' self tan smell! It's transfer resistant so doesn't rub off onto clothing (or your mobile phone...) but it does go streaky when wet so don't get caught in the rain. The lotion has a moisturing ingredient making very easy to apply. I would recommend Instant Glow Face Lotion, a little goes a long way so it's worth the money.
St Tropez Skin Illuminator - £15 for 30ml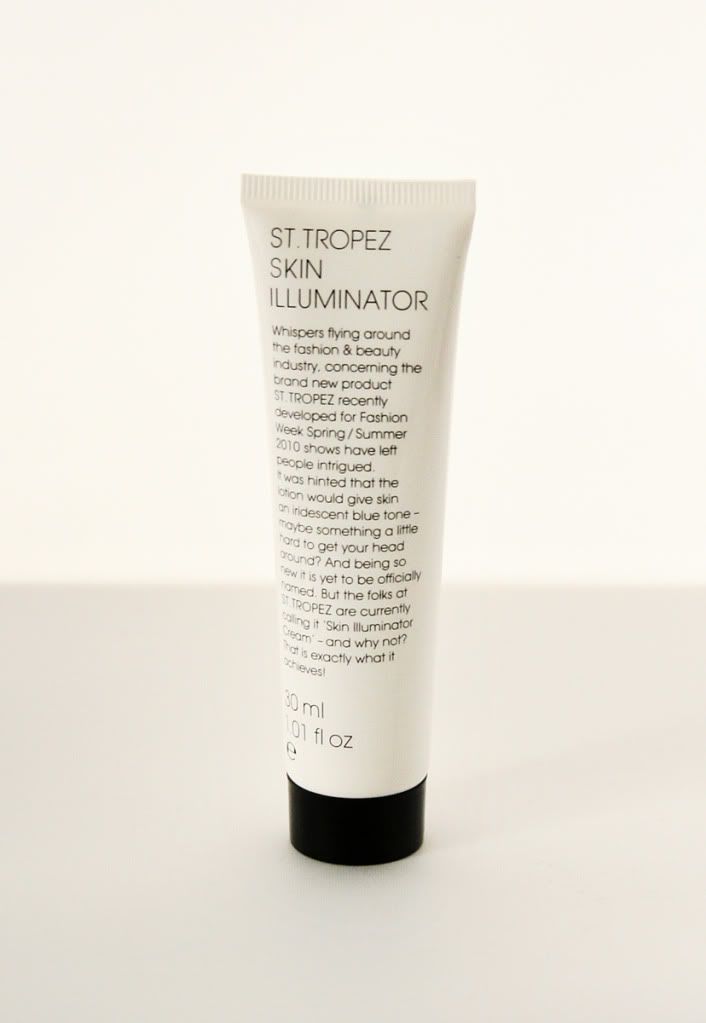 This is a strange product that I've grown to like now I know how to use it! It's an iridescent skin highlighter, an ultra violet coloured lotion that produces a really pretty shimmer. Use it sparingly on 'bony' areas like front of shins, collar bones & cheekbones where you would naturally catch the light. I only wear it for going out and it looks best on tanned skin (fake tanned in my case). Don't slather it on like I did when I first used it, you'll look neon purple! It's a bit pricey so I'd wait until it's on offer, it also crops up in St Tropez gift packs which are better value for money than buying individual items.
Clinique Take The Day Off Make-up Remover £14 for £125ml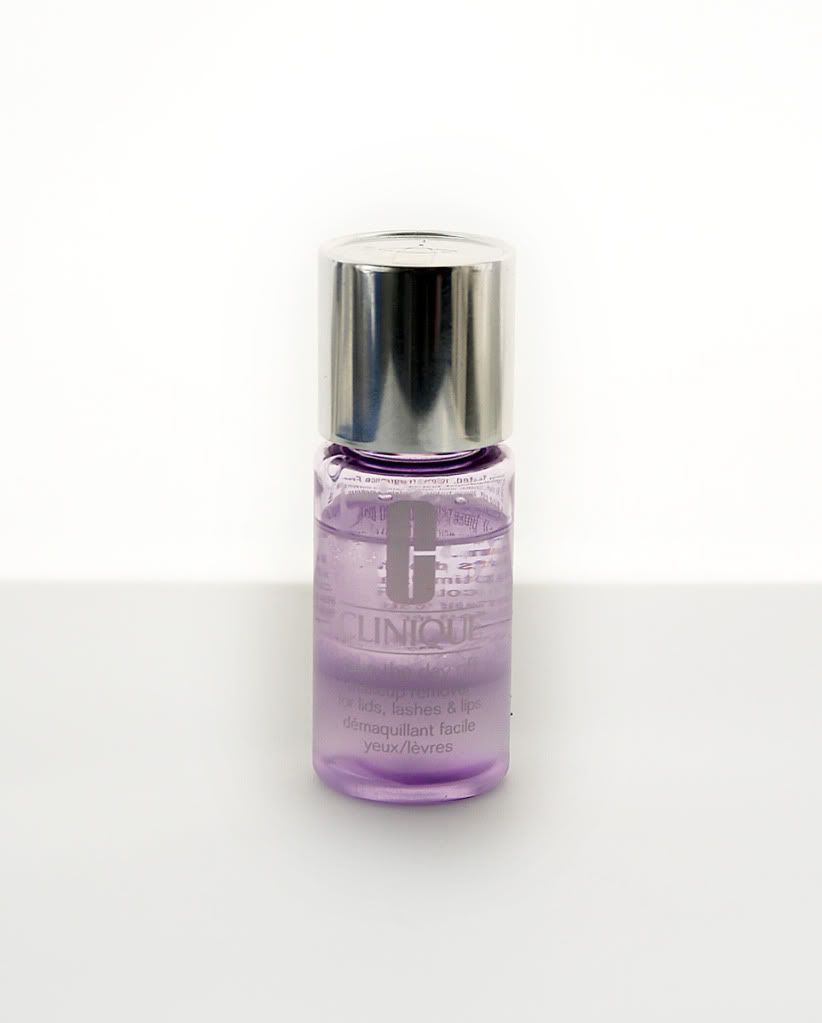 Urgh! What can I say, I hate this product. Thankfully I got a 30ml trial size free with the Clinique bonus treat scheme. I'd read some good reviews on this eye make-up remover but I don't rate it at all. It's a 'separated' product that you shake to mix before use. I found it didn't remove my mascara well and it leaves a horrible greasy residue behind, if you get it in your eyes it doesn't sting but your vision is blurred. It's expensive and I'll stick to my Simple Kind To Eyes make-up remover (£3 for 125ml).
Boots Time Delay Daily Brightening Toning Water £4.50 for 200ml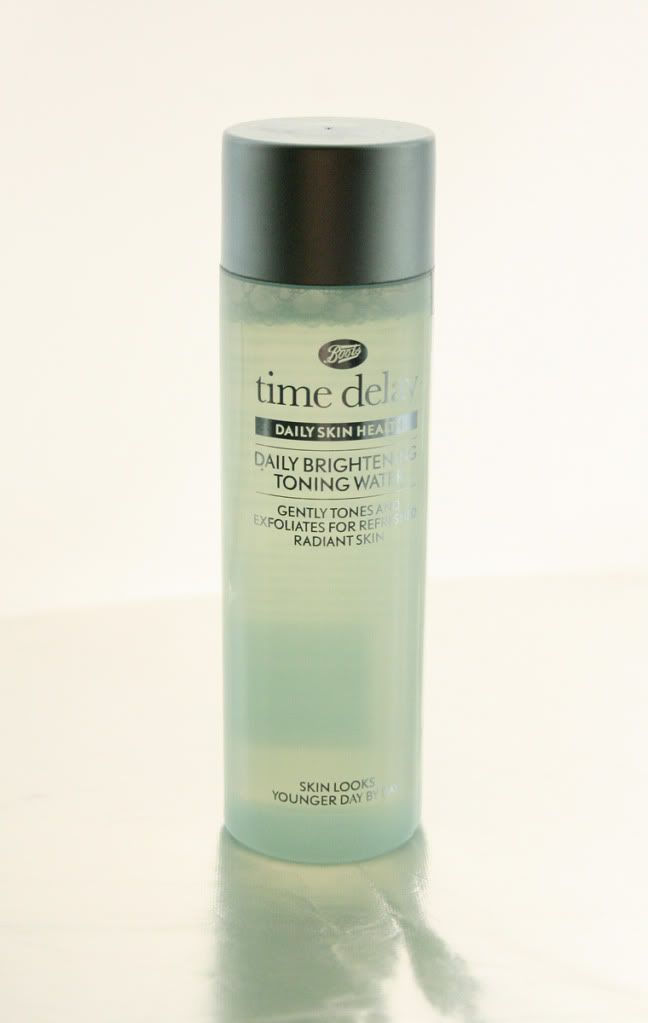 This is a great product and was actually cheaper than the listed price as I bought it during one of Boots frequent 3 for 2 promotions. It's a toner to use after cleansing your skin, a quick swipe over with some of the product on a cotton pad and all traces of make-up and cleanser are gone. It leaves your skin fresh, but not tight or dry. It smells OK too and the bottle is a decent size.
OK and now for the surprise element....
Suddenly Madame Glamour Eau de Perfum - £3.99 for 50ml at Lidl
Over the summer there was a lot of publicity about this perfume from discount supermarket Lidl, and at last I managed to grab one. You can read some of the publicity
here
,
here
&
here.
You can't test the perfume in store but for 4 quid you could always use it as an air freshener if you didn't like it. (£4 is just over $6 US!)
Apparently in blind tests the majority of women preferred it to Chanel's Coco Mademoiselle which retails for £61 for an equivalent size.
So, how did it fare? Well it's gorgeous! It's light, fresh and not at all heavy but does have some depth to it. Seriously it's such a bargain, can I say it again? £3.99! I've worn it a few times now and had a number of compliments, people are shocked when I say where it's from and how much it cost, it smells far more expensive than it is. OK the name isn't up to much and the bottle styling is quite plain, but come on, it's the fragrance that counts. I don't think it lasts quite as long as most designer brand perfumes, but I can live with that, at this price you can afford to be generous and re-spray during the day.
So do we get what we pay for? My most disliked product in this review was one of the most expensive, and my favourite was the the bargain of the year. Are we all just guilty of snobbery? I'm sure if the testers had known which brands they were testing the results would have been much different, and I'm ashamed to say I'd include myself in that category. I wouldn't have tried this perfume if I hadn't read the publicity. Would you wear a perfume from a supermarket or are you designer all the way?