Video: Girls Can Do Fight Training Too!
Yep, girls can do fight training!
Whether you plan on competing or not, fight training is great exercise for both body and mind.
For the last 3 weeks I've been lucky enough to have some private training sessions with a hugely experienced fight trainer. Normally I work out doing my own routines based on HIIT (high intensity interval training) and bodyweight exercises but I'm always willing to try something new, so recently Wag Doll's been doing boxing and MMA style training. Check out my video!
Now I'm warning you, this isn't a girly workout video, it's a low down and dirty training session. I was utterly exhausted and it shows! I love my more artistic videos like
Insane Abs
and
Extreme Hill Sprints
, but this is raw footage of a real training session and it ain't pretty!
I've had 5 x 1hour PT sessions so far, and my improvement from a complete beginner has been dramatic.
I'm a big advocate of training yourself, researching and devising your own workouts. I've fully embraced the home workout revolution that's been taking place, but this is one kind of training where you really do need an experienced teacher.
Youtube won't allow me to post an hour long video....Booooo!...so I'm afraid I can only show you the highlights of my training session (or lowlights if you include my dance moves!).
For those who want a bit more info on what this training session involved, here's the breakdown;
Cardio warm-up - 10 minutes of HIIT work; high knees, running on the spot, squat jumps, jumping jacks. Get your body warmed up and your heart rate & lungs working.
Fight Conditioning - 25 minutes. This is the hardcore work that physically pushes you to the limit. It enables you to move an opponent around the ring and is designed to increase strength, explosive power and endurance. 3 sets of each exercise; decline push-ups, tyre lifts, sprawls, weighted squats, mountain climbers, squat thrusts, shoulder push and the dreaded Power Push. Check out the size of Ed my trainer, I had to try and push him across the mat....it felt like trying to move a ten ton truck!
Padwork - 20 minutes. Boxing padwork and shadow boxing. Using the rope line to develop the bob and weave technique followed by padwork punch combinations. Resistance band padwork develops leg and core strength and makes you fast. My hands were flying when I took the resistance band and gloves off, I nearly toppled over LOL! Sneaked a few pull-ups in at that point too.
Stretches & cool-down - 5 mins. It's so important to cool down and stretch out, particularly as these sessions works muscles that I've never worked before.
I'm really enjoying the fighter training and am planning to expand from just boxing techniques to martial arts too.
I've been involved in the boxing and martial arts world for many years, attending shows for filming and doing
photography
. I've watched fighters train hard, visited numerous gyms and attended more shows than I can count, but I've never been tempted to join in before now. As my fitness levels have increased doing the Wag Doll Protocol, I've wanted to expand the type of training I'm doing and learn some new things.
Fitness training develops your body and your thirst for knowledge too!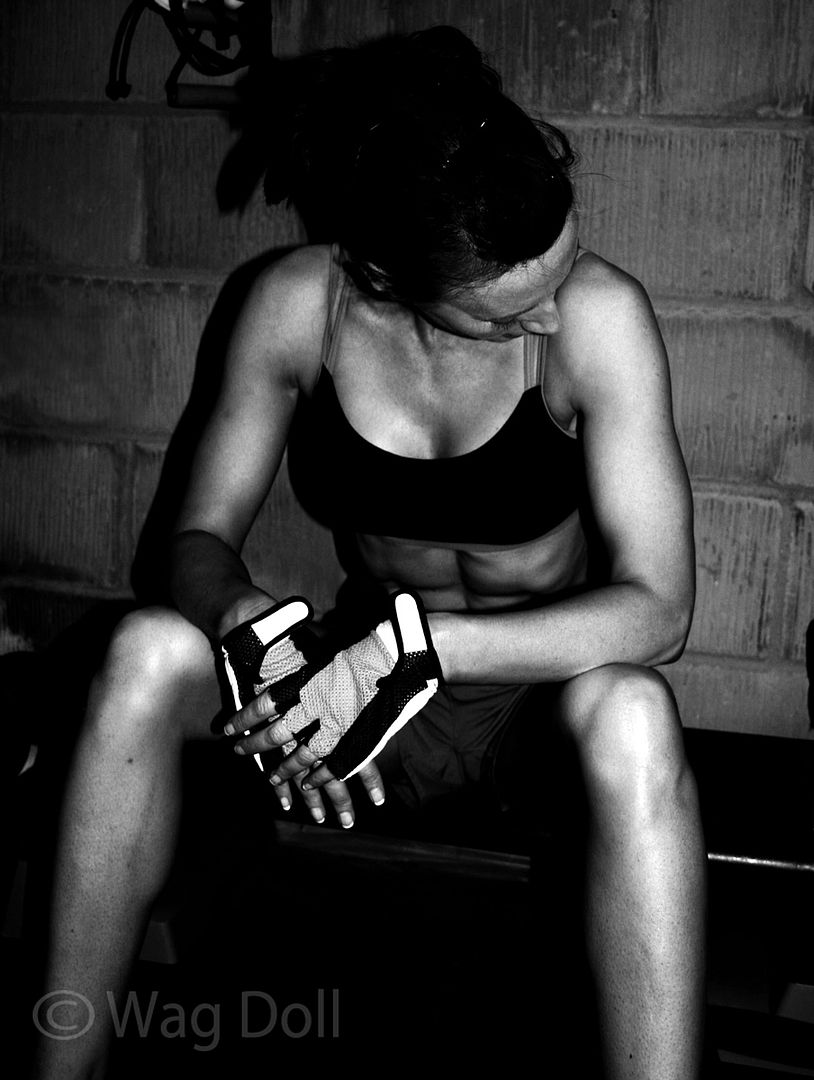 And that's the over-riding thing I've learnt from the fighter training, it's a brain workout as much as a body workout. I'm physically and mentally tired after a session which means the old grey cells have been given a kick up the backside. It's important that a training regime stretches your mind as well as your muscles.