Insane Ab Workout Video!
Just a quick post to share with you Wag Doll's new video 'Insane Abs Workout - Stylised and Ripped!'
How much do I love this promo, I feel like I'm in a music video!
Doing this video was an eye opener in all that goes into filming, I was slightly confused when the guys at
Loftcon Studios
explained the vision they had for my abs workout...in the dark? How will anyone see anything?!
They told me to have faith, and through the mysterious dark art of editing they worked their magic...and boy did they work their magic, please wait while I pick my jaw off the floor! The video is stylish and artistic, and more that I could have hoped for when I said I wanted something different. These guys are seriously creative and talented.
So here's a quick rundown of the core exercises I'm doing in the video,
Oblique bends with dumbell
Bicycle abs
Dumbbell raise sit ups
Side plank with twist
Mason twist with dumbbell
and a little bit of fun showing my biceps :-) Not a core exercise as such, but fun at the end of the film shoot.
There are endless exercises for your core, so don't get bored just doing hundreds of sit-ups, vary your workouts to keep your interest up and to keep working the different areas of your core. You can see from my selection above that I've included a number of oblique exercises, (the side area of your midsection) to trim the waist. I want toned abs but I still want a feminine shape with a defined waist, these exercises will give you that.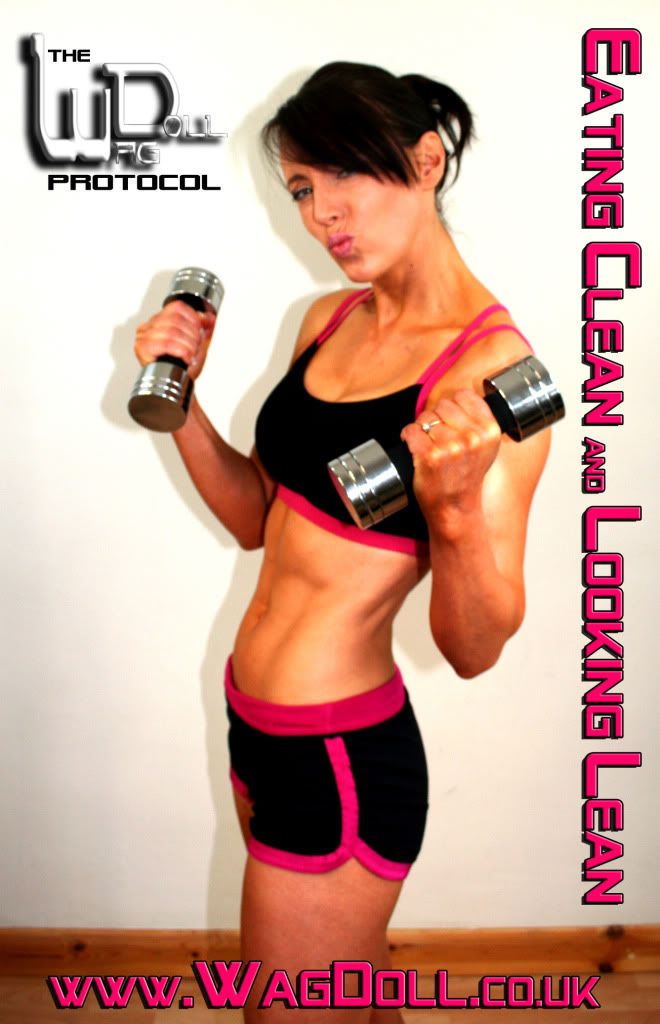 I aim to include some ab work in every training session I do, whether at home or in the gym, doing cardio, HIIT or weights. Your core is the one area of the body that doesn't need a rest day to improve, so work them every day if you want!
I've had a lot of queries recently about how long it's taken for me to reach this level, and I've now been working out for four months. At the start of The Wag Doll Protocol regime I had a muffin top bulge over the top of my jeans, but by following a healthy diet (I'm doing my
clean eating
regime) and including regular ab work in my fitness plan I've reduced my
waist and hips by inches
, and can finally reveal the abs that were hiding a layer of blubber for years.....I'm so happy to see them and this video allows them to say hi to to world!
Hope you enjoyed the video and subscribe to me on youtube as there are more to come!