Loungerie Trio Part 1: The PJ Pants. McCalls M5989 With Modifications
Hey lovelies.
So I finally got round to doing a sewing blog post, yippee!
You all know I've been busy
working out
and
eating clean
as part of the The Wag Doll Protocol regime, but I am still sewing, and here's the first part in a trio of items I've made recently, pyjama pants.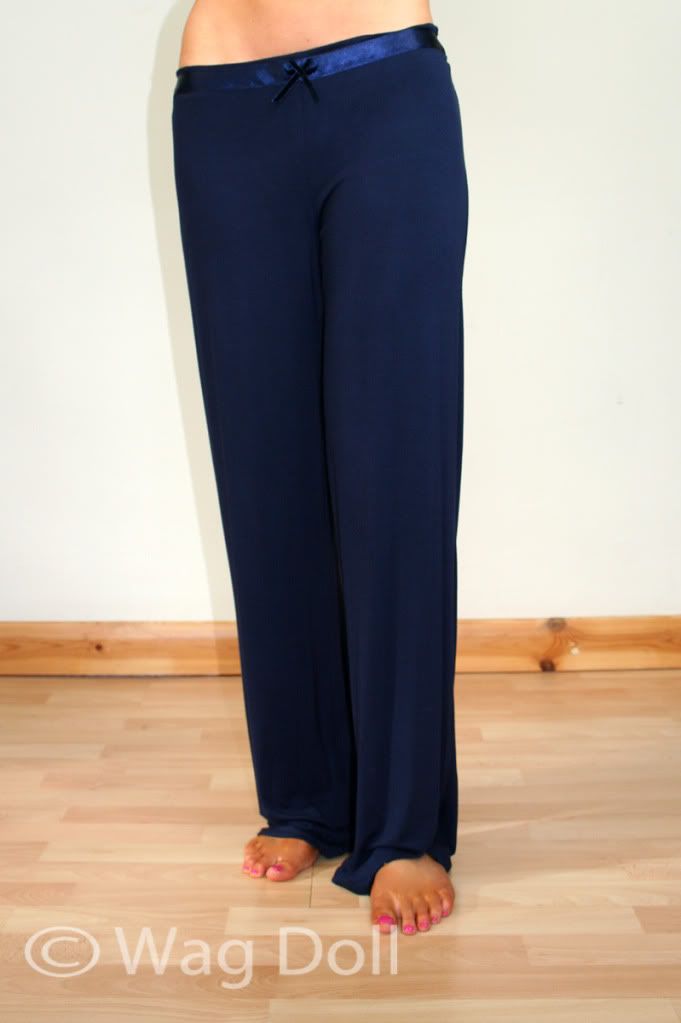 I explained in this
post
that I normally go straight to the gym after work. I then get home around 7.30pm, shower and start dinner & relax. But what to wear? 8pm is too late to bother getting dressed again, but too early for me to get the pyjamas on while I'm cooking dinner. I wanted to make something casual, something I could wear to cook, have dinner, potter about & relax but could still answer the door. Enter the loungerie trio, more lounge wear than lingerie!
Read on for a description and pattern review...
I loosely based these trousers on McCalls pattern M5989 which also includes a dressing gown and camisole top.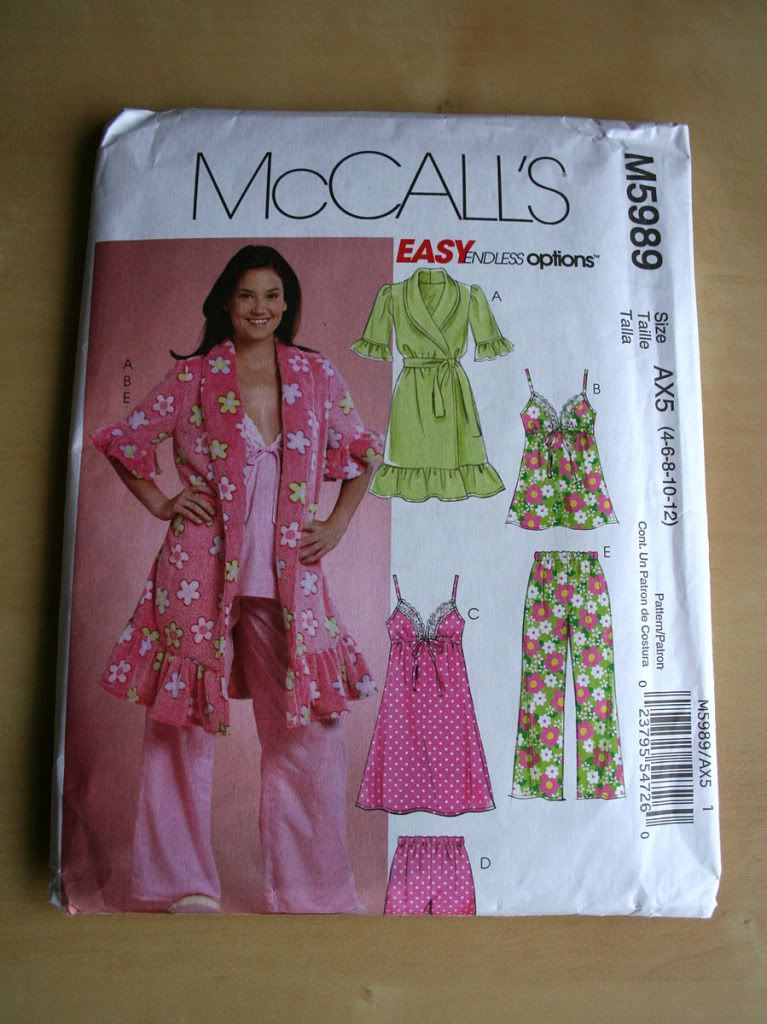 When I say loosely based, I really do mean loosely based, I pretty much ended up with a self drafted piece. The pattern for the pants runs huge...massively huge! I used the pattern pieces for a size 8...but then reduced a good few inches off the side seams and rise, I don't want belly warmer pants...personally I prefer a low slung hipster style on relaxed pieces.
The fabric is a navy 4 way stretch lycra jersey, very soft and flowing.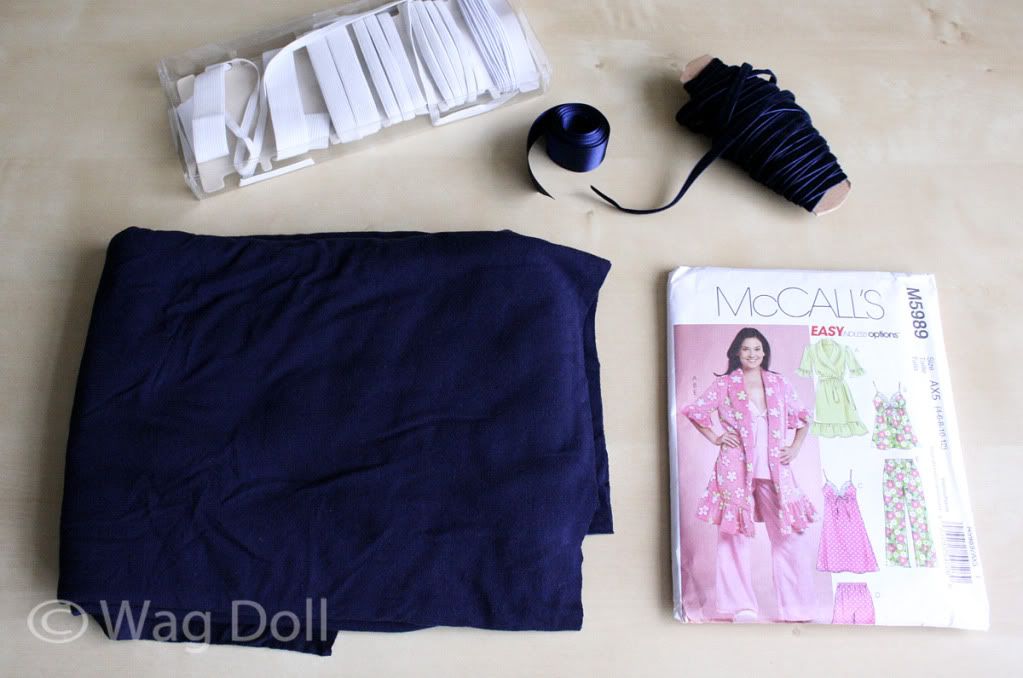 I also used elastic to gather the back waist and satin ribbon for the front waistband, along with the cutest velvet ribbon for a bow.
Don't ya just love this velvet ribbon trim...gorgeous!
The waistband on M5989 is fully elasticated and not very pretty. I wanted to add trimming to the front, and keep the elastic around the back. So the pattern instructions became largely redundant, and I didn't follow them at all. I sewed the front and back inner leg seams together, then the crotch seams.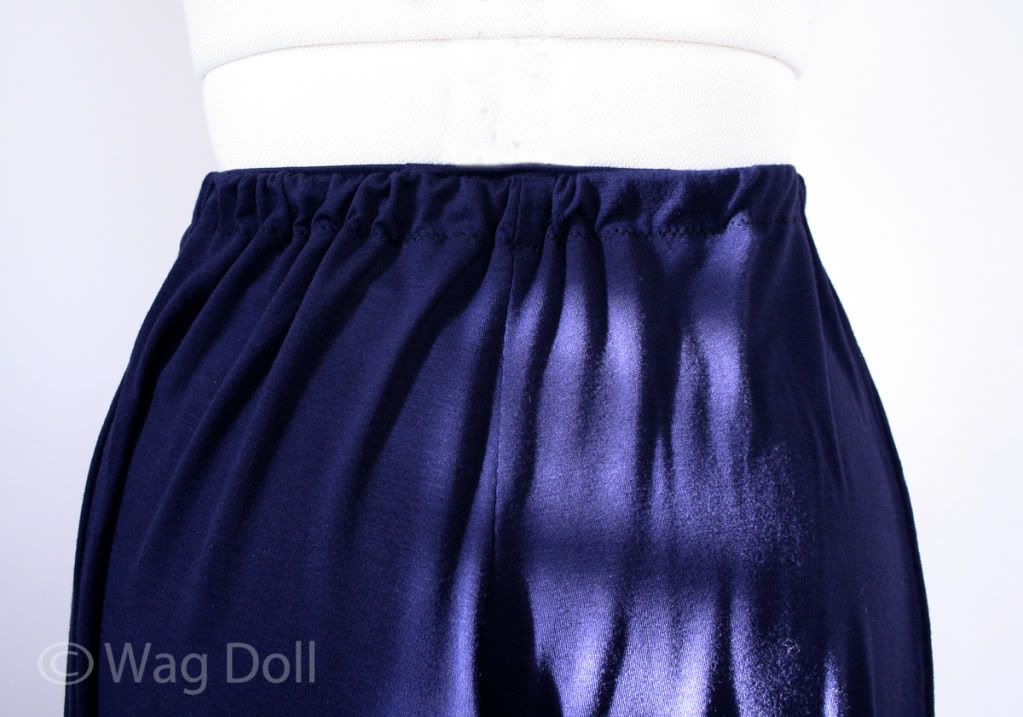 At this point I made a casing for the back elastic by turning the fabric over twice at the waistband and threading the elastic through, securing it at the side seams.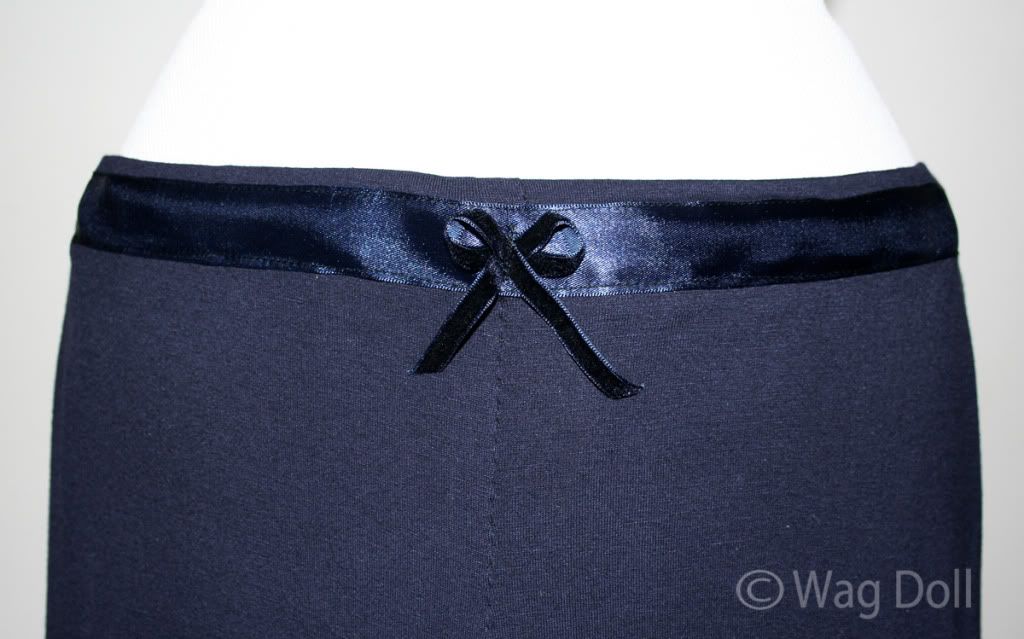 For the front waistband I turned the fabric over by the same amount and top stitched the sating ribbon trim in place, adding a little velvet bow to the front. Lastly I sewed down the outer side seams and hemmed the pants.
I'm a UK size 8 and the finished measurements of the garment ended as:
Waist (to sit on hips) 37" excluding gathers, 30" including gathers.
Front rise 9". Back Rise 12".
Width across the front thigh piece 11.5" (so 23" inc back piece).
Width across the bottom front piece 10" (so 20" inc back piece).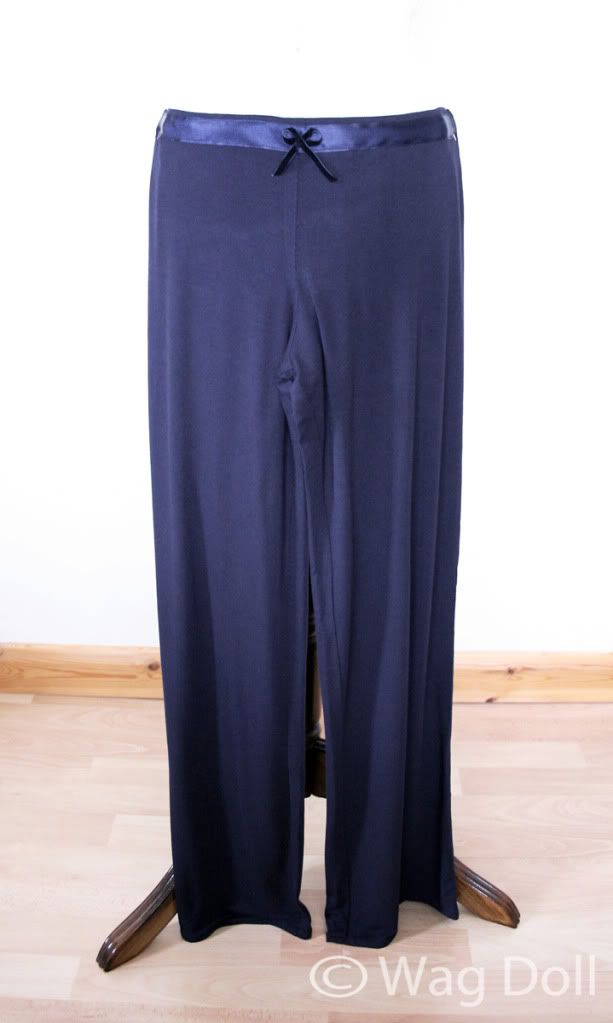 Despite the fact that this was only my second commercial pattern....which I ended up not following it at all.... I managed to make these pants in a couple of hours and will definitely make more. I love them, they're so comfortable yet still tres chic!
And have you noticed my new guest?!
I'm modelling the pants in the first photo, but above is a sneak peek of my new assistant and best friend 'Anne'. Yay! I finally got a dress form and I can't tell you how happy I am. Photos, alterations and fitting are so much easier with a dress form. I'll show you some full length photos of Anne in my next post, she was rather shy in this one...being topless and all! So stay tuned for Loungerie Trio part 2, the camisole top.